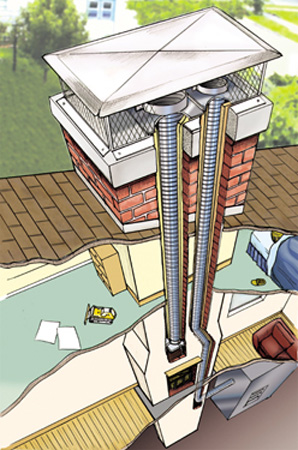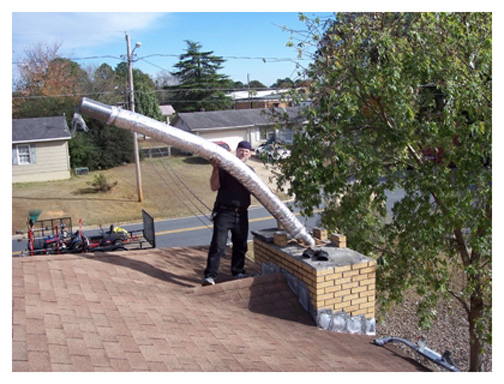 Chimney Relining
Your chimney and fireplace is constructed of many different parts and components that together ensure proper and efficient operation during use. One of the most critical components of your chimney venting system is the chimney liner. These venting liners come in a variety of materials and are designed to safely remove smoke and other hot flue gases when your fireplace is in use. During your annual sweep our trained professionals will inspect the condition of your chimney liner and advise you of any damage or deterioration that may pose a safety risk to you and your family. A sound and functional chimney liner is a necessity for the safety of you and your home.
Your chimney liner can be constructed of various code approved materials to include: Clay liners, stainless steel, aluminum, or cast masonry. Each material type has specific uses and applications for proper flue gas venting. Our chimney professionals are trained and knowledgeable in all types of flue venting materials and can determine the type of chimney liner needed for your home and heating appliance.

Do I need a new liner?
Our knowledgeable and trained chimney professionals can determine if your home is in need of a new chimney liner. Annual maintenance is a key aspect to keeping your chimney liners in top shape. Soot and creosote buildup is corrosive to metal liners and can degrade your liner material over time resulting in holes throughout the system. If you have a masonry chimney, water and excessive moisture subjects your clay liners to damage and decay that causes cracks and structural degradation. Maintenance neglect can lead to severe damage to your chimney's liner system if a chimney fire happens within your venting system. Your chimney and fireplace should be inspected and swept annually to keep you chimney liner clean and problem free.
Can I change my heating appliance or fuel type?
Before you decide to change or convert an existing heating system to use a new appliance or fuel type allow our knowledgeable staff to ensure that your system meets the venting requirements of the new system. Improper installation of heating appliances and or use of unapproved fuel types may lead to serious problems for your home and family.
I have an older home. Do I have a chimney liner?
If you have an older home, your chimney may not have a chimney liner. Unlined chimneys pose increased risk to your home and family. Our professional chimney technicians can install a new liner for your chimney system and increase the safety and efficiency of your chimney and fireplace.