Chimney Repairs
Annual chimney sweeps and inspections can often shed light on areas of your chimney and fireplace that need repair. At some point all chimneys and fireplaces will require interior or exterior repair work to ensure that your system stays working effectively and efficiently. Chimney repair work requires the knowledge and experience of a trained professional chimney technician to ensure the right fix the first time. The professional staff and technicians at Middle Georgia Chimney Sweeps LLC are familiar with every aspect of chimneys and fireplaces to include building code regulations and requirements. Our expert staff is sure to have the solution to your fireplace repairs.

Chimney Relining , Chimney Masonry Repair, Chimney Cap Install, Chimney Waterproofing, Firebox Repair, Masonry Parging.
Many exterior chimney repairs are caused by constant exposure to rainwater and freezing temperatures. Waterproofing of the chimney exterior can stop expensive water damage from occurring inside your home and stop the damage caused by water absorption. Damage caused by harsh weather conditions, constant freeze and thaw cycles, excessive water absorption, and buildup of flammable residue can all be contributing factors to damage and decay to your chimney system. Repair of a damaged chimney is critical to the effective and efficient operation of your heating system.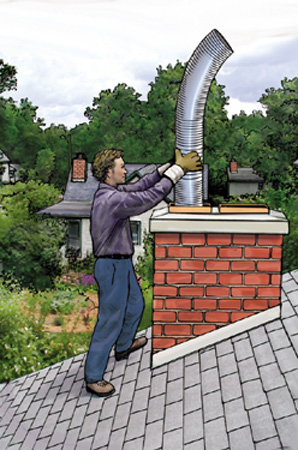 Chimney Liner / Relining
A chimney liner that has deterioration or damage is a hazard to your home and family. The chimney liner is a critical component of your fireplace and needs to remain in good condition for proper operation of your chimney and fireplace. The flue liner is designed to contain the hot flue gases and carbon residue during the burning process. A chimney with a damaged or deteriorated flue liner is in danger of catching fire and subjecting combustible parts of the home to unwanted heat and flame.
There are a variety of chimney liners installed when chimneys are built. Our professional chimney technicians are trained and experienced in all types of liner replacements and installs and can answer all questions related to your liner replacement needs.
Masonry Repair
Masonry repair work is not always outwardly apparent, which is one reason why annual professional chimney inspections and sweeps are important to the proper operation of your chimney system. Our trained and experienced technicians look for signs of damage and deterioration on both the inside and outside of your chimney system. Early detection and repair of masonry damage can significantly reduce repair costs and downtime of your fireplace during the cold winter months.